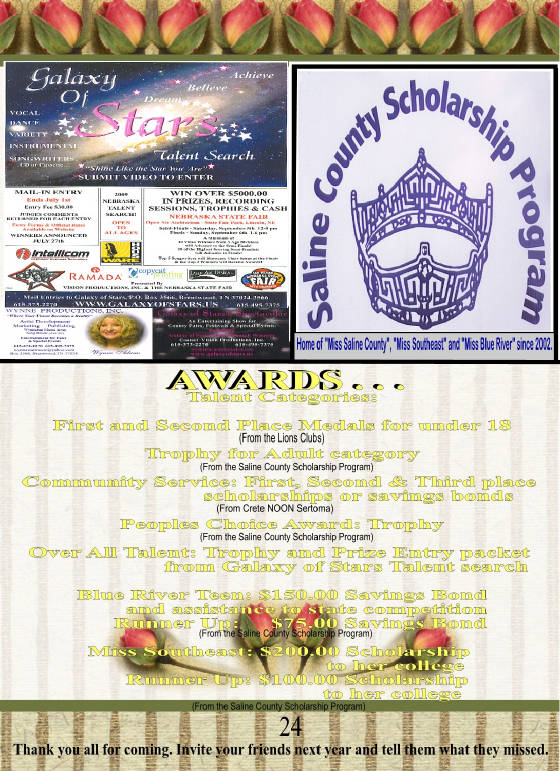 Do you have questions
on becoming a contestant?
ELIGIBILITY REQUIREMENTS -
Contestants must be:
13 - 17 for the "Teen" program
17 - 24 for the "Miss" program
(as of December 31, 2009 / senior in high school)
Miss Blue River:
must attend school or live in Saline, Gage, Seward, Fillmore, Jefferson, Thayer or York counties.
Miss Southeast:open to girls attending school or living in Nebraska.
Outstanding Teen titles:
same rules apply as for the Miss program.
* Title winners will be expected to follow Miss Nebraska rules if they wish to compete in North Platte in the month of June.
Are you interested in being a volunteer or sponsor?

Just click this address to send us e-mail:
Miss Blue River - Miss Southeast Miss Blue River or Miss Southeast OUTSTANDING TEEN OR write to: Janette Drohman 1140 Parklane Crete, NE 68333
Children's Miracle Network is now the official national platform of the Miss America Organization. It is an official requirement for each contestant wishing to compete. Once you have won a title, the contestant will then raise $250 to compete at Miss Nebraska, which benefits the Children of this fine network and applies to scholarships given at state and national levels. All the information regarding this is listed at the below link; you will be able to set up your own webpage for fundraising.